Monday 10 October 2022 
After two months designing, building and programming our robot, seven students and two coaches from the Cayman Islands National Robotics team jetted off to Geneva, Switzerland with Mangrover the robot safely encased in a custom-made box. No trip would be complete without the traditional team photo at the airport!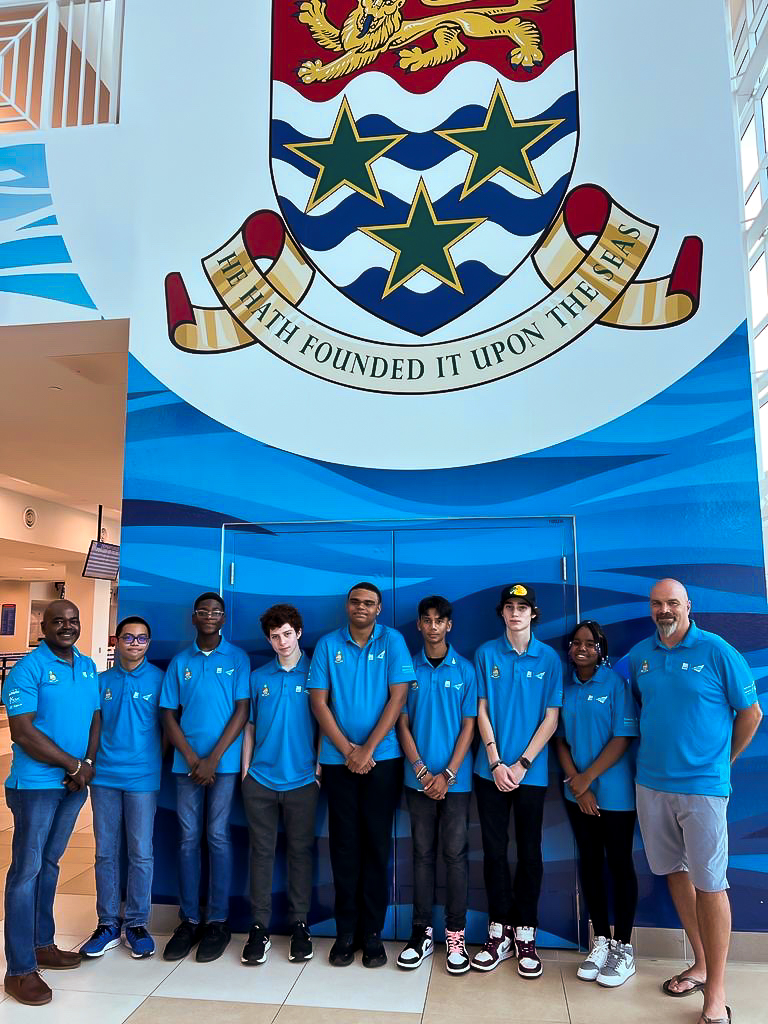 Tuesday 11 October 2022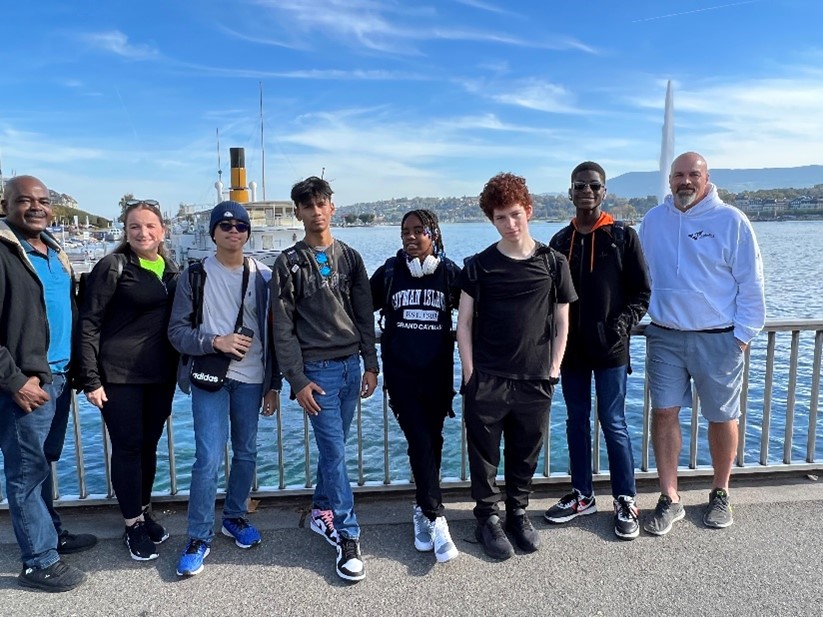 Arrived in Geneva, the "Capital of Peace" where nations gather to solve diplomatic challenges as well as robotics competitions! Flying in, we could see Lake Geneva's famous Jet D'Eau fountain which spouts water 460 ft into the air. An impressive feat of engineering dating back to 1886.
Wednesday 12 October 2022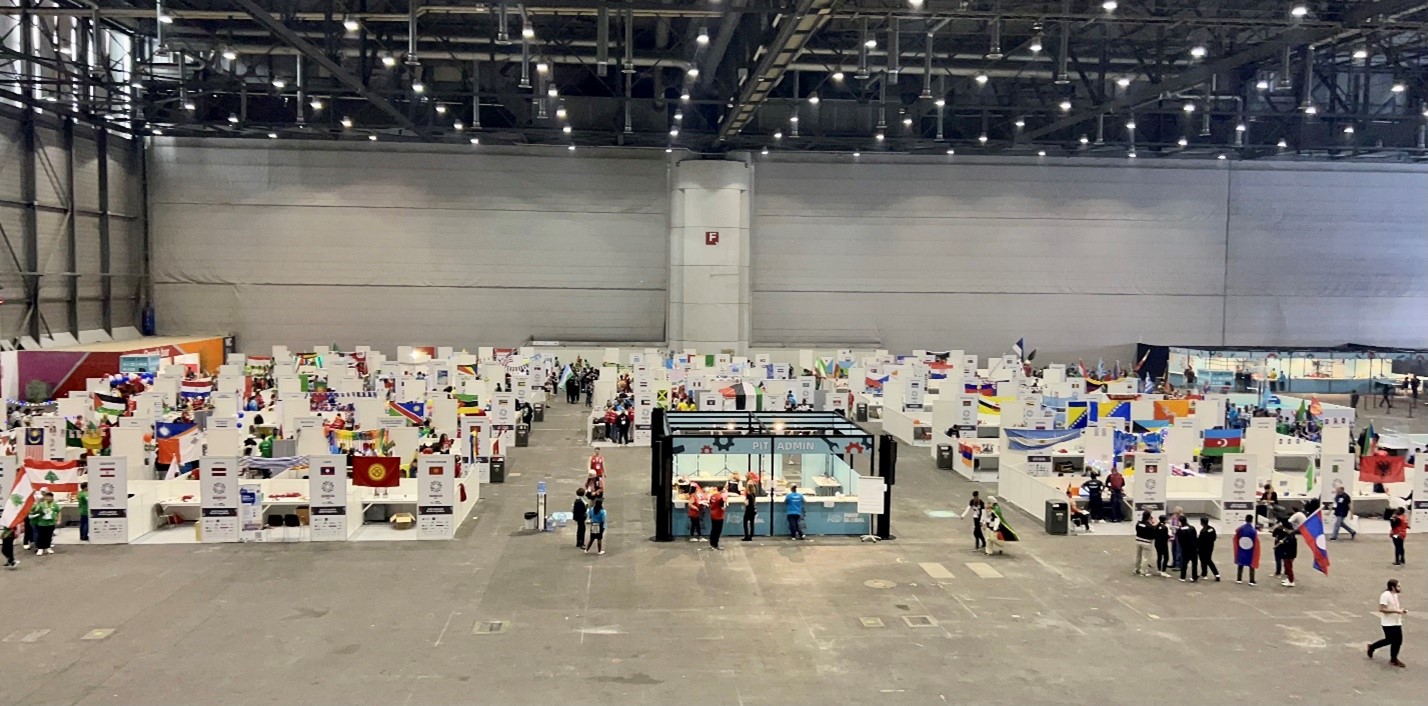 First sight of the arena in Geneva's huge PalExpo centre. We set up our pit, put Mangrover through a few practice runs and said hi to our neighbours, the teams from Canada and Chad.  Teams from 165 countries were at FIRST Global, including Team Hope representing refugees from around the world.
Thursday 13 October 2022
Amazing opening ceremony, similar in style to the Olympics as teams processed into the arena carrying their national flag. A proud moment for everyone. Can you spot the Cayman team arriving?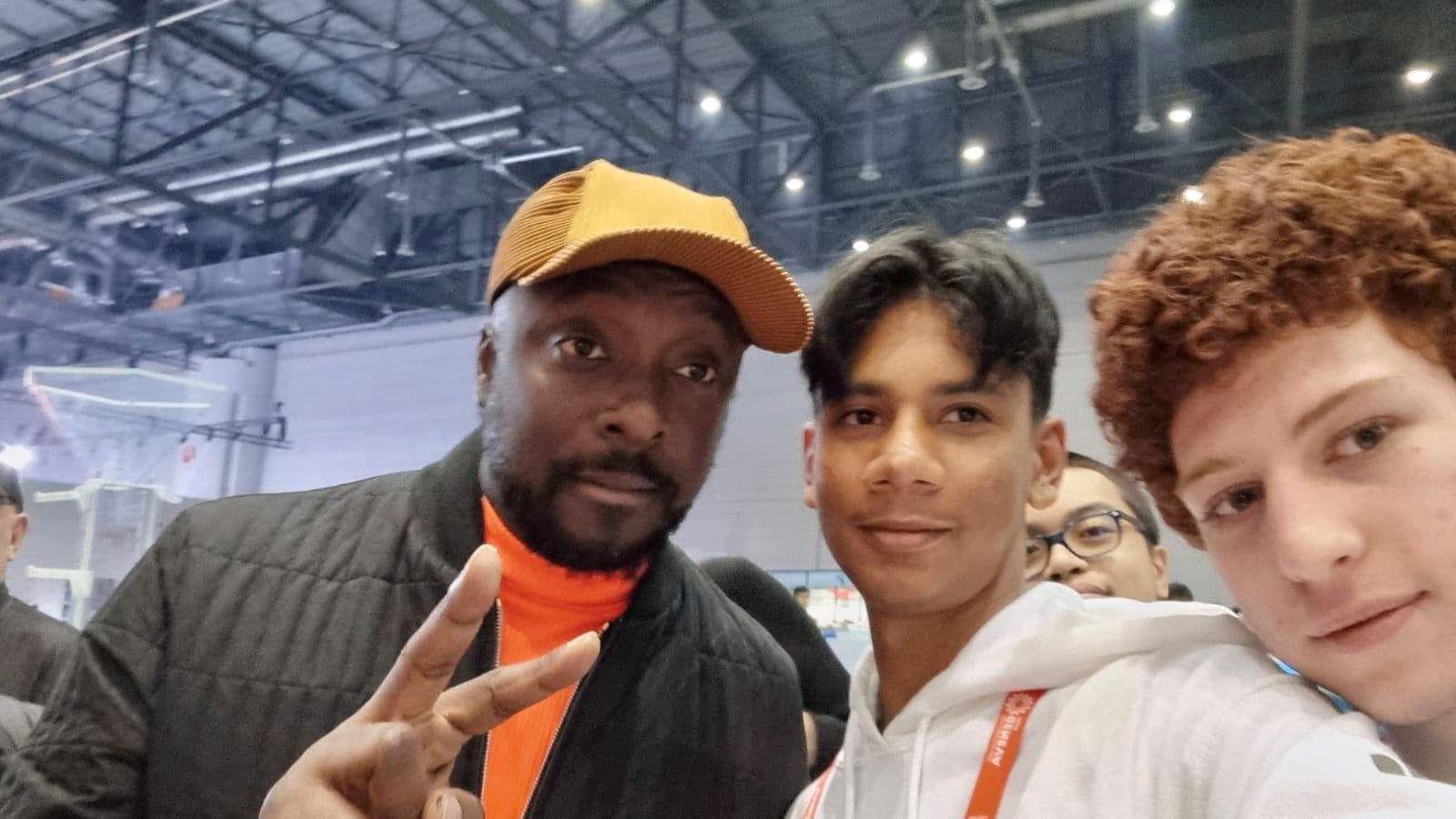 Bumped into Will.i.am who we hear loves robots as much as rapping with the Black Eyed Peas. He's attended FIRST Global every year and supports underserved students with technology through his i.am.angel foundation. He even had his song "Reach for the Stars" beamed back from Mars by NASA's Curiosity rover in 2012.
Friday 14 October 2022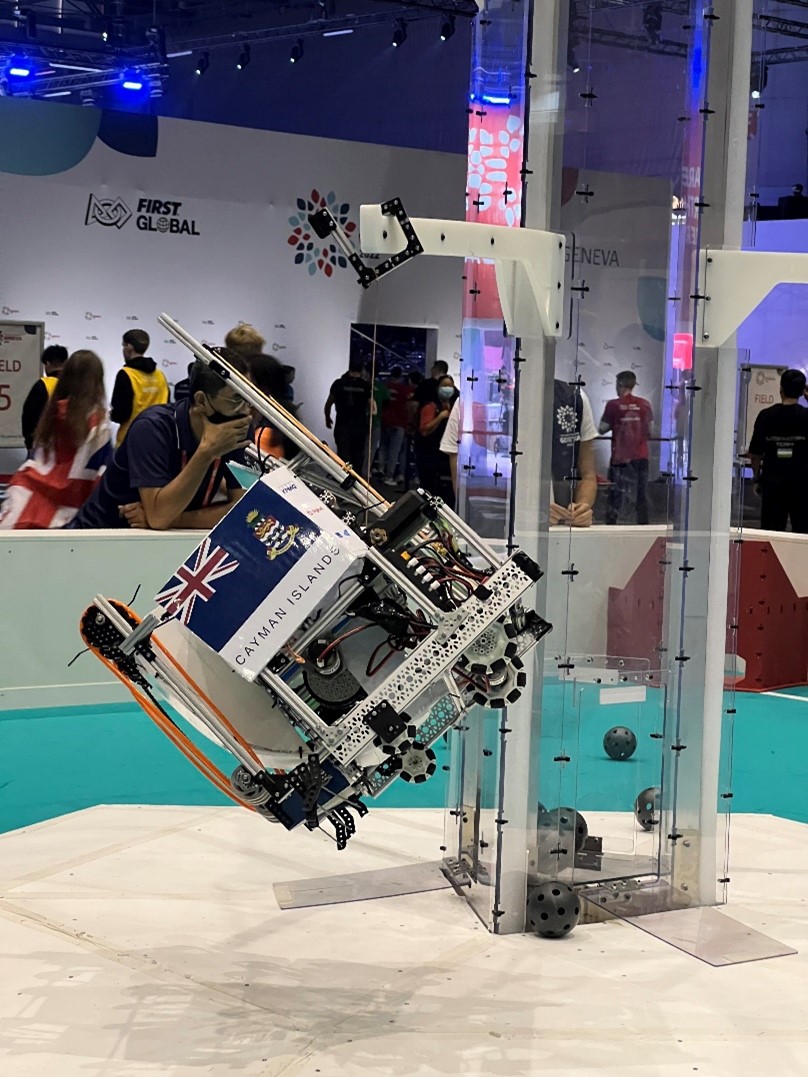 Ranking matches kicked off. In our first game, we were teamed with Namibia and Liberia, battling against Korea, Laos, and Chad. Mangrover performed well, scooping up the balls that represent carbon elements and shooting them ten feet into the air into the carbon 'sink'. Our first win.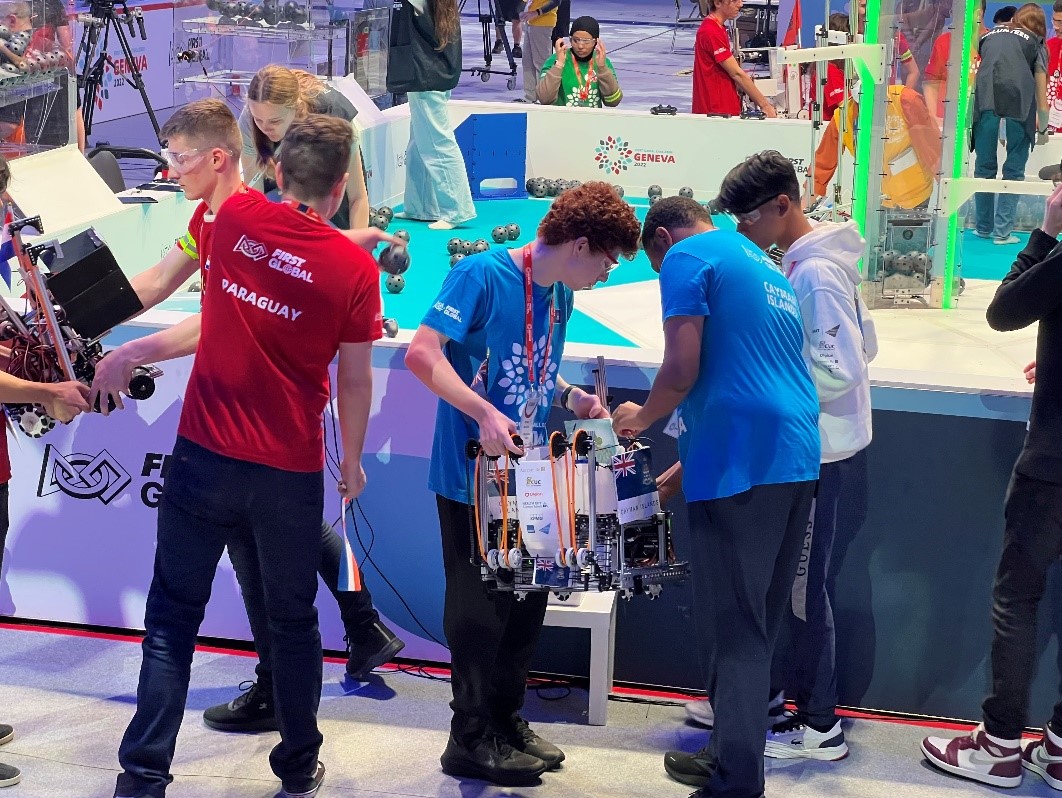 Birthday boy Michael turned 17 – and was interviewed live on camera by the FIRST Global media team. A birthday to remember.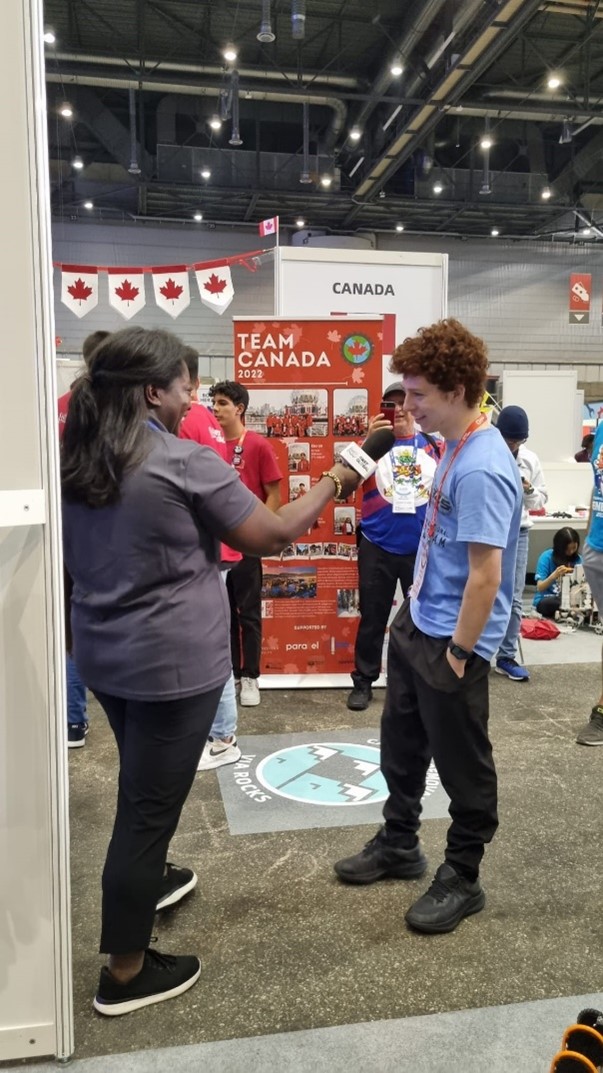 Saturday 15 October 2022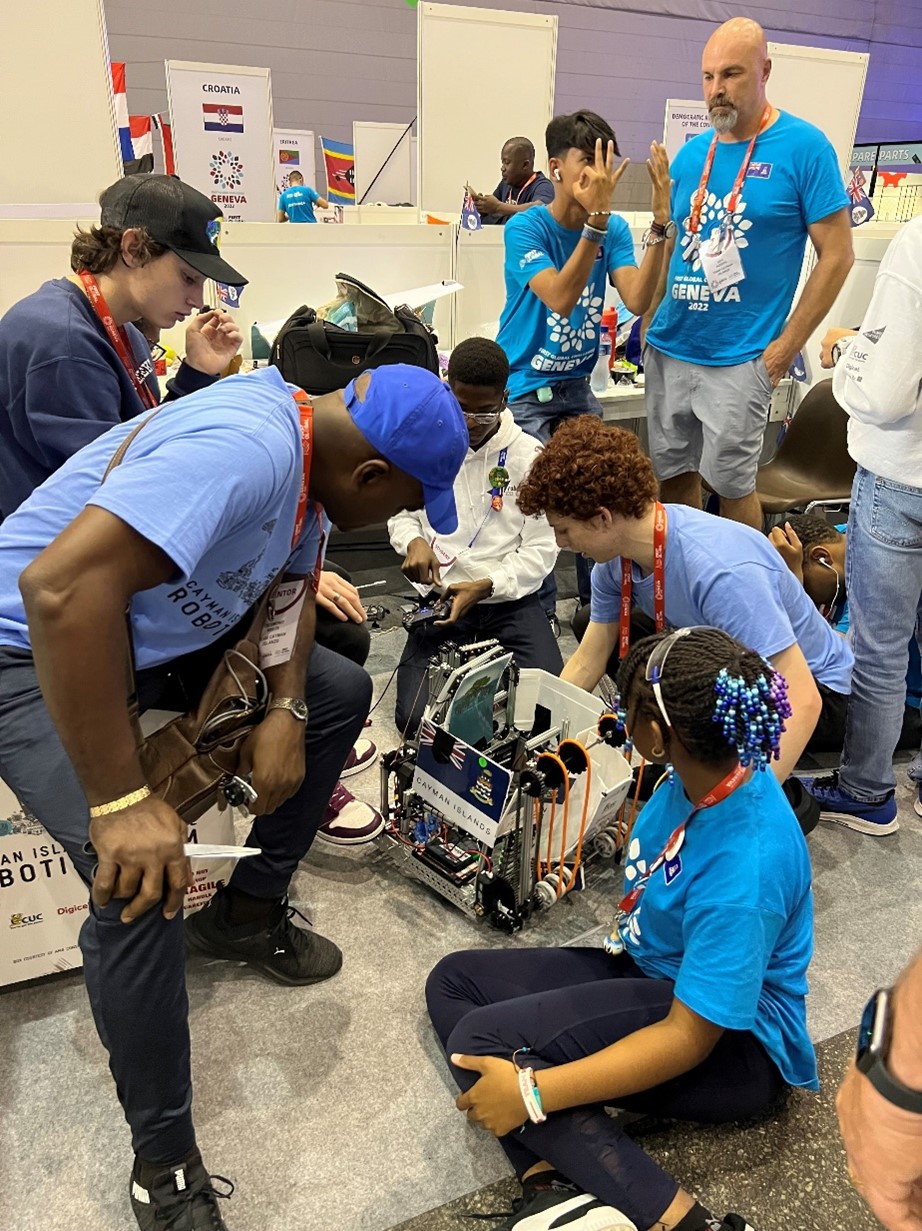 A second day of ranking matches – not such a great day for us, when Mangrover's launcher failed, which meant we were limited to gathering carbon atoms and couldn't get them into the sink.
Making matters worse, bad luck struck our pull-up arm creating several scoring misses.  The arm had caused no end of challenges in the design phase as well. Disappointing, but all part of the learning experience in robotics which requires continuous improvement to designs and mechanics.
Sunday 16 October 2022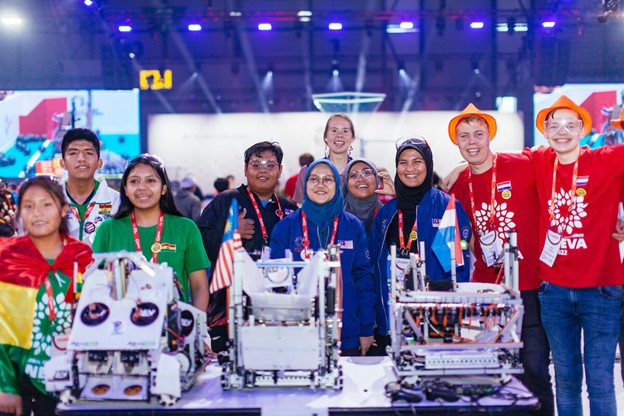 Play-offs and finals day. Congratulations to the winning alliance in the final match: Lithuania, Belize, Botswana and host team Switzerland.
Exciting news as Lam Research announced $10 million sponsorship to inspire future innovators in semiconductors and beyond – stay tuned for the location of next year's competition, still to be announced.
Monday 17 October 2022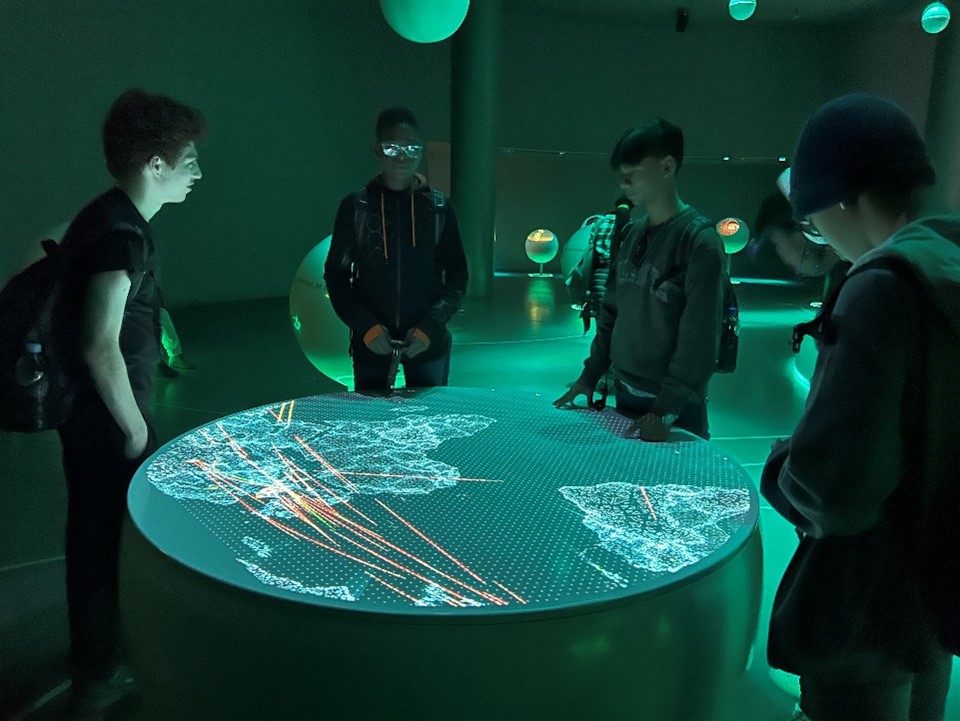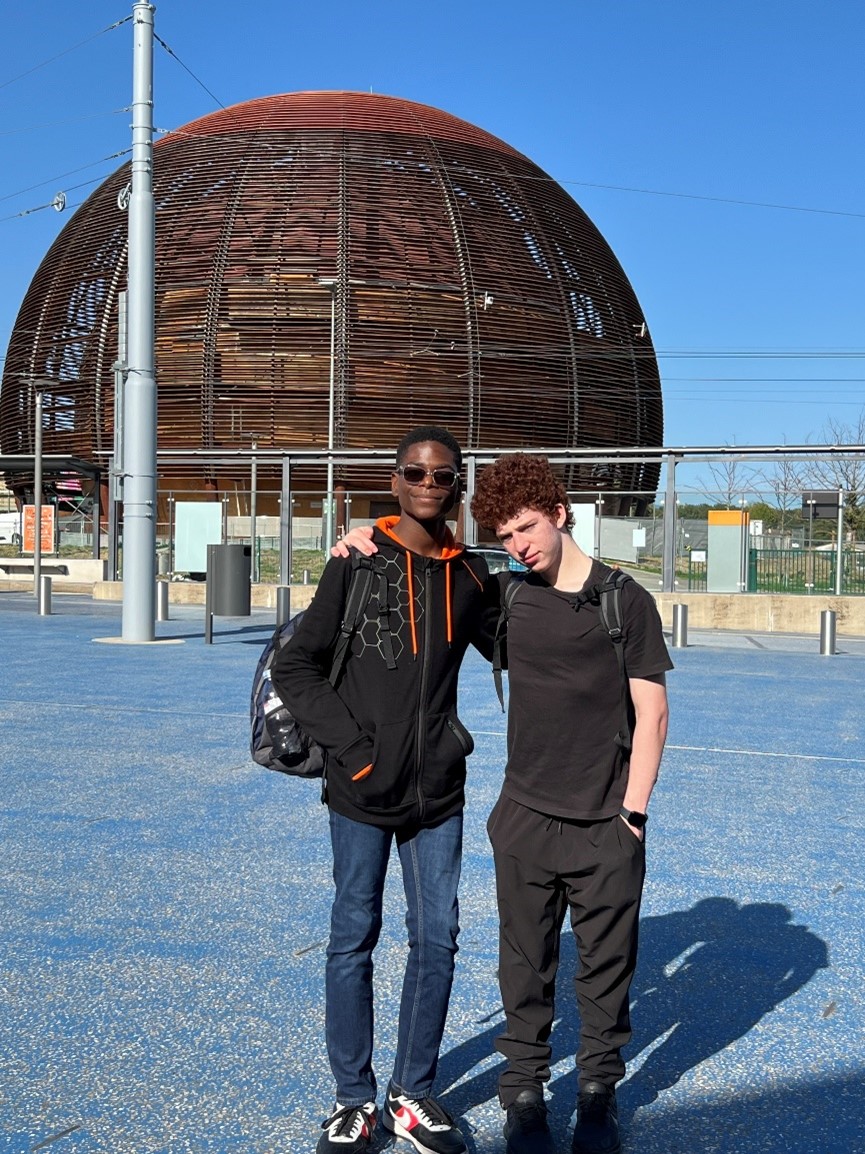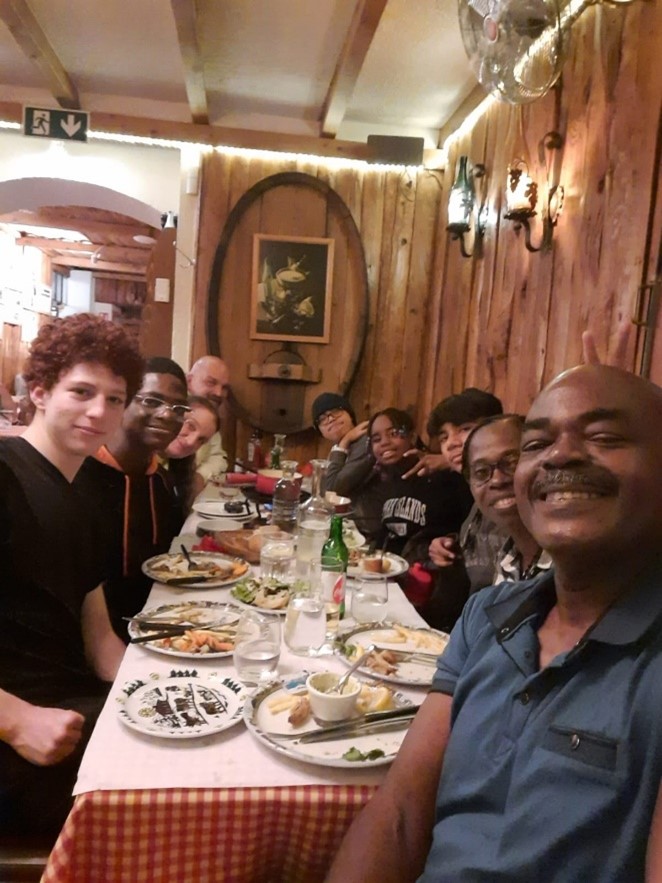 Our last day in Switzerland and time spent exploring Geneva. Our first stop was CERN, the European Organization for Nuclear Research, where we took in the Universe of Particles exhibit.
CERN's Large Hadron Collider is a unique tool that scientists from over 100 countries use to study particle collisions using giant detectors. The particles produced by the collisions give us insights into the mysteries of the universe.  CERN currently has a massive expansion underway that will expand their education capacity, adding a new library and laboratories.
The afternoon was spend exploring the Geneva city centre, where we enjoyed traditional raclette and fondue at the popular Auberge De Saviese.
Tuesday 18 October 2022
Packed our bags and left for home with memories of an inspiring, exhausting and educational week in Switzerland.  Already looking forward to the start of the new robotics season in November!